Nikon Instruments Announces 2010 Nikon Small World Judges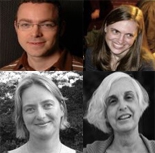 Posted on April 30, 2010
Nikon Instruments announced today the judges for the 2010 Nikon Small World Photomicrography Competition. For 36 years, the competition has featured some of the most esteemed names in science and science journalism on its judging panel, and this year is no exception. Since its founding in 1974, Nikon Small World has seen consistent growth due in part to the amazing image submissions and the distinguished judges who have offered their insight to the contest.
The judges for the 2010 Nikon Small World Photomicrography Competition are:
• Jeremy Kaplan, Science & Technology Editor, FoxNews.com
• Betsy Mason, Science Editor, Wired.com
• Alison J. North, Ph.D., Director of the Bio-Imaging Resource Center and Assistant Professor, Rockefeller University
• Shirley A. Owens, Ph.D., Retired Director of the Confocal Lab in the Center for Advanced Microscopy, Michigan State University
Nikon Small World recognizes the world's best photomicrographers who are making key contributions to life sciences, bio-research and industrial science, while also demonstrating acute comprehension of the pleasing aesthetics when science and art come together. The competition is the preeminent forum for showcasing the beauty and complexity of life as seen through the light microscope and over the years has received international recognition in the science community, among art and photography lovers, and in the media.
Winners of the Nikon Small World Competition will be announced in October. For additional information, please visit www.nikonsmallworld.com, or follow the conversation on Facebook and Twitter @NikonSmallWorld.
---