Nikon Instruments Announces Judges for 40th Anniversary "Nikon Small World" Competition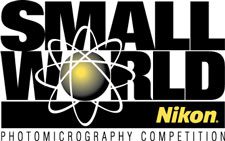 Posted on May 16, 2014
Nikon Instruments, Inc. announced today the judges for the 2014 Nikon Small World Photomicrography Competition. Celebrating its 40th Anniversary, Nikon Small World honors its tradition as the world's oldest and most prestigious photo competition recognizing the unique intersection of science and art as seen through a microscope.
Over the past 40 years, Nikon has hosted some of the most influential individuals from the scientific community and science journalism as judges for the annual competition. The judges this year are:
• Dr. Paul Maddox, Assistant Professor and William Burwell Harrison Fellow, Department of Biology, University of North Carolina at Chapel Hill; Principal Investigator, Mitotic Mechanisms and Chromosome Dynamics research unit, IRIC
• Laura Helmuth, Science Editor, Slate
• Dave Mosher, Online Director, Popular Science
• Michael W. Davidson, Director of the Optical and Magneto-Optical Imaging Center at the National High Magnetic Field Laboratory at Florida State University
"We are honored to have such respected members of the scientific community and media bring their expertise to the judging table," said Eric Flem, Communications Manager, Nikon Instruments. "Our 40th Anniversary is a huge milestone, and the caliber of judges who are joining us this year reflect the tradition and spirit of the competition that has made the Nikon Small World competition so successful over the decades."
Since its founding in 1974, Nikon Small World has continued to surge in popularity and size. Every year, the competition and its winners receive international recognition in the science community, with art and photography hobbyists, and in the media.
Judging for the 2014 competition will take place on May 21 in Tallahassee, Florida.
For additional information, please visit www.nikonsmallworld.com, or follow the conversation on Facebook and Twitter @NikonSmallWorld. 
About Nikon Small World Photomicrography Competition
The Nikon Small World Photomicrography Competition is open to anyone with an interest in photography. Participants may submit their images in traditional 35mm format, or upload digital images directly at www.nikonsmallworld.com. For additional information, contact Nikon Small World, Nikon Instruments Inc., 1300 Walt Whitman Road, Melville, NY 11747, USA or phone (631) 547-8569. Entry forms for Nikon's 2015 Small World Competition may also be downloaded from www.nikonsmallworld.com.
About Nikon Instruments Inc.
Nikon Instruments Inc. is a world leader in the development and manufacture of optical and digital imaging technology for biomedical applications. Now in its 96th year, Nikon provides complete optical systems that offer optimal versatility, performance and productivity. Cutting-edge instruments include microscopes, digital imaging products and software. Nikon Instruments is one of the microscopy and digital imaging arms of Nikon Inc., the world leader in digital imaging, precision optics and photo imaging technology. For more information, visit www.nikoninstruments.com. Product-related inquiries may be directed to Nikon Instruments at 800-52-NIKON.
---