Nikon Small World Announces the Winners of the 47th Annual Photo Competition, Image of an Oak Leaf Exterior Takes First Place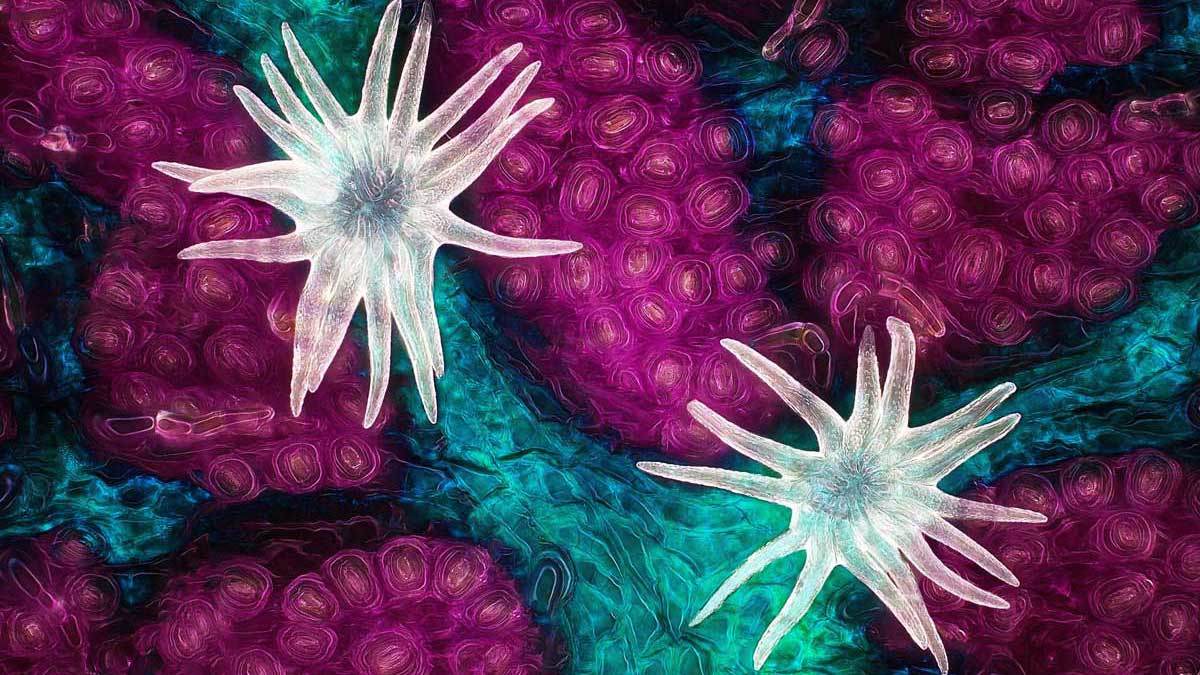 Posted on September 13, 2021
Nikon Instruments Inc. today unveiled the winners of the 47th annual Nikon Small World Photomicrography Competition. This year's first place prize was awarded to Jason Kirk for his striking image of a southern live oak leaf's trichomes, stomata and vessels. Using various lighting techniques and design tools, Jason's final image is a masterful example of the dynamic relationship between imaging technology and artistic creativity. Using a custom-made microscope system that combines color filtered transmitted light with diffused reflected light, Jason captured around 200 individual images of the leaf and stacked them together to create the stunning image.
Jason used both transmitted and reflected light on opposite sides of the leaf to highlight three vital structures. Prominently featured in white are the trichomes, which are fine outgrowths that protect a plant against extreme weather, microorganisms, and insects. In purple, Jason highlights the stomata, small pores that regulate the flow of gases in a plant. Colored in cyan are the vessels that transport water throughout the leaf. All three are essential to plant life.
"The lighting side of it was complicated," said Jason. "Microscope objectives are small and have a very shallow depth of focus. I couldn't just stick a giant light next to the microscope and have the lighting be directional. It would be like trying to light the head of a pin with a light source that's the size of your head. Nearly impossible." Jason edited the color temperature and hue in post-production to better illustrate the various elements pictured.
When Jason is not directing the OiVM core facility at the Baylor College of Medicine, he can be found spending his free time customizing microscopes and photographing subjects found in his backyard. "I've learned a lot from the scientific community, having spent 20 plus years in this field doing microscopy at a fairly high level. But I've also learned a lot from the people in the hobbyist environment. Small World is a great combination of the two groups, and you don't often get an opportunity to see that."
"Nikon Small World was created to show the world how art and science come together under the microscope. This year's first place winner could not be a better example of that blend," said Eric Flem, Communications Manager, Nikon Instruments, "I continue to be amazed by the level of talent we see every year, and this year's winning gallery is no exception. As imaging technology continues to progress, the 47th annual competition has provided us with some amazing captures of scientific research and creativity from across a multitude of disciplines."
Second place was awarded to Esmeralda Paric for her image of a microfluidic device containing hundreds of thousands of networking neurons. The primary neurons were extracted and cultured, then seeded and transduced with a virus. The particular image shows two populations separated but bridged, with different viral treatments. It was maintained for 30 days, immunostained, and tiled imaged.
Third place was captured by Frank Reiser for his picture of a rear leg, claw, and respiratory trachea of a hog louse (Haematopinus suis).
In addition to the top three winners, Nikon Small World recognized 100 photos out of thousands of entries from scientists and artists across the globe.
The 2021 judging panel included:
Dr. Nsikan Akpan, Health and Science Editor at New York Public Radio
Hank Green, Science Fiction Author and Internet Creator
Robin Kazmier, Science Editor at PBS NOVA
Dr. Alexa Mattheyses, Associate Professor of Cell, Developmental, and Integrative Biology at the University of Alabama, Birmingham
Dr. Hesper Rego, Assistant Professor of Microbial Pathogenesis at the Yale School of Medicine
To view all the winners, click here.
---