Small World @ The Wistar Institute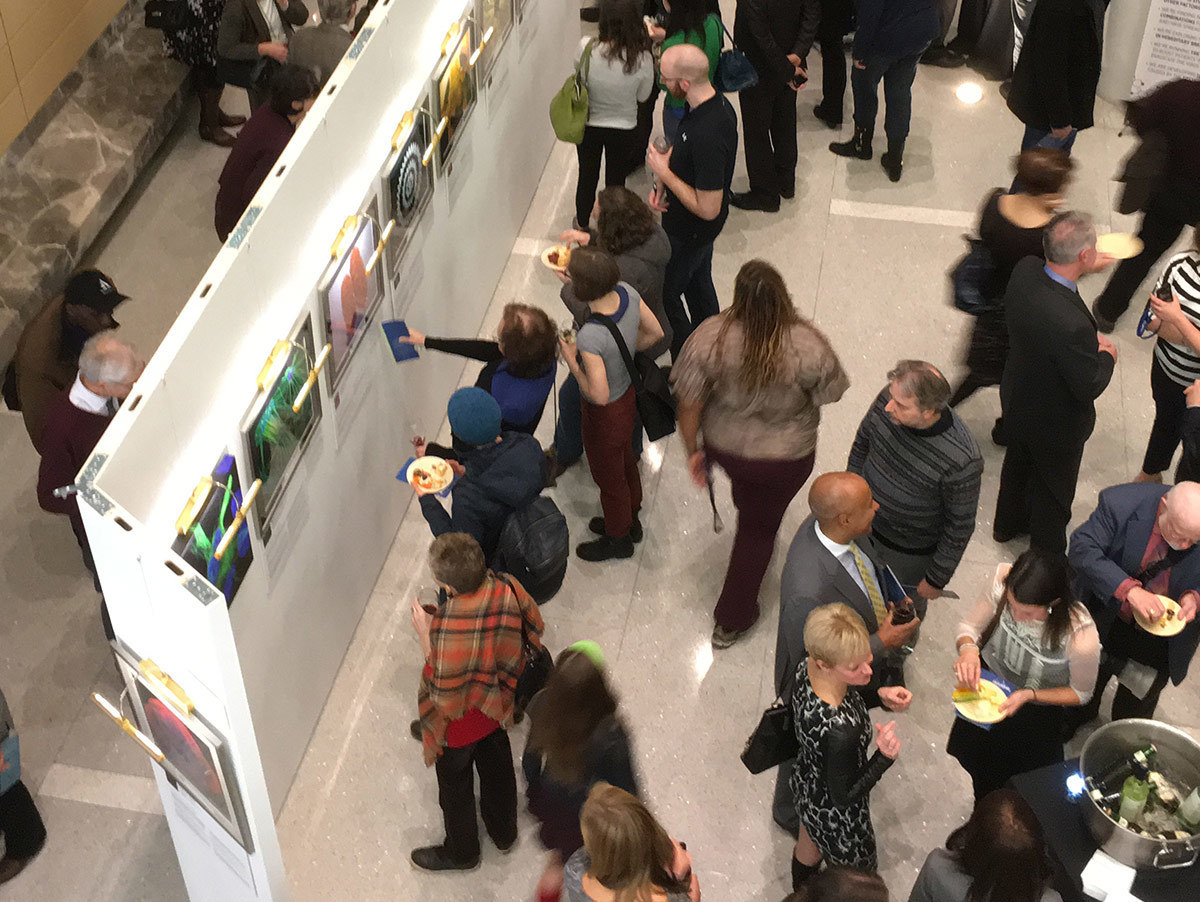 Posted on January 08, 2010
A Nobel Laureate, a scientist from Estonia and 20 breathtaking images captured under the microscope came together at The Wistar Institute in Philadelphia on January 7th to kick-off the 2010 Nikon Small World Exhibit Tour. The event included a number of seminars from leaders in the field of imaging and microscopy as well as an evening reception offering the unique opportunity to meet some of the winners from the Nikon Small World Photomicrography Competition, including 2009 First Place Winner Dr. Heiti Paves, Tallinn University of Technology, Tallinn, Estonia, and James Hayden, director of The Wistar Institute's microscopy facility, and multiple Small World winner.
The event's afternoon seminars included Martin Chalfie, Ph.D., co-recipient of the 2008 Nobel Prize in Chemistry and Department Chair of Biological Sciences at Columbia University. Dr. Chalfie conducted a seminar on his co-discovery of Green Fluorescent Protein (GFP). Cancer researcher Meenhard Herlyn, D.V.M, D.Sc., of The Wistar Institute, and Yale E. Goldman, M.D., Ph.D., of the University of Pennsylvania, Pennsylvania Muscle Institute also presented on current biomedical research using advanced imaging technologies.
The Nikon Small World Exhibit displays a selection of the 2009 winning Nikon Small World images. Each year, Nikon's Small World Photomicrography Competition celebrates the world's best photomicrographers, who create spectacular images using a wide variety of advanced scientific disciplines. Dr. Paves took the top honor in the 2009 competition for his magnificent depiction of the essence of floral life, a gorgeous photograph of a thale cress anther (the male sex organ of a small flowering plant). Nikon Small World recognized Dr. Paves' image, along with the other winners from this year, for showing both scientific and artistic qualities.
"I am extremely honored to be part of this event to recognize the winners of the 2009 Nikon Small World Competition," said Dr. Paves. "Over the years, the Nikon Small World Photomicrography Competition has celebrated thousands of beautiful images, and I believe I speak on behalf of all winners when I say we are happy to share our pictures and raise interest in our work."
"Nikon Small World offers Nikon Instruments the opportunity to share the beauty and wonder of science beyond scientific communities to the broader public," said Eric Flem, communications manager, Nikon Instruments, Inc. "We used to say Small World was where art met science, but now we say it's where people meet science."
---