Small World in Motion Honorable Mention Winner Highlight: Wim van Egmond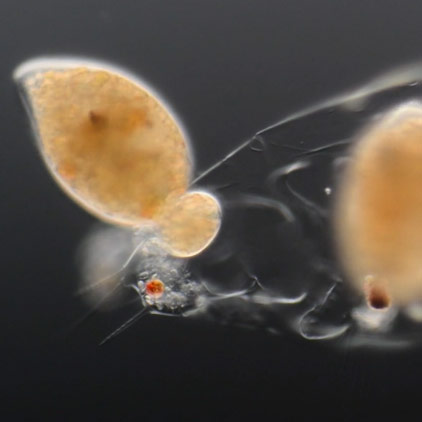 Posted on October 08, 2014
Mystery and beauty of aquatic microbes captured in two winning videos from Small World veteran
Wim van Egmond of Berkel en Rodenrijs, Netherlands, is no stranger to Nikon Small World. After taking the first place title in last year's 39th annual Nikon Small World images competition, van Egmond has proved his mastery of this microscopic medium yet again. This time it was his submissions of live action videos captured under the microscope caught judges' eyes, earning him two Honorable Mention titles in the sister competition, Small World in Motion (SWIM). While both entries are quite different, it should come as no surprise to see both feature a mesmerizing look at aquatic organisms – a familiar theme for van Egmond.
Both entries were captured via deferential interference contrast (DIC), a technique favored by van Egmond for the extra palate of colors provided by the contrast. The footage was then taken with a Nikon D800.
The first winning video plays out more like a microscopic thriller, with two ciliates scavenging inside the body of a dead organism. Like vultures, ciliates detect dying animals on which to feed. In this case the "victim" is the larvae of a codopod – although how they entered the body is a mystery to van Egmond, who was surprised to capture the pair on their "great escape" once they finished feeding.
Capturing such a scene took a combination of patience and luck, as van Egmond carefully laid out his slides, examining them every so often. He first took shots focusing on the ciliates feeding on the organic material. Thirty minutes passed before he returned to examine the slides, and just managed to catch them fleeing the scene. "It's strange and beautiful, these simple organisms have no eyes, no ears, no organs," says van Egmond. "But still, they sense one another. One escapes, and the other follows in an instant. It's fascinating."
van Egmond's second winning entry also features aquatic life, this one part of a series he calls "Swarms," featuring a colony of golden algae with two flagella swarming toward the light, moving in a mesmerizing pattern reminiscent of constellations. To capture the movement and give depth to the image, van Egmond was careful to provide plenty of space for the organisms to move freely.  The organisms in the background are a bit out of focus, giving depth more realistic to their natural habitat. "It's like an abstract painting that moves," says van Egmond. "That's what I love about this. Just masses of microbes filling the view, forming patterns as they congregate toward the light."
With last year's first place prize under his belt, and a record as one of the most winningest entrants in Small World history, van Egmond consistently proves he's an artist with a true talent for capturing the depth and beauty of the microscopic world. And to speak to him is to know he's not losing his passion for photomicrography anytime soon.
"We see people all day, but sometimes you want to see something different," says van Egmond. "There's something about the microbe world that's so alien and bizarre. Those are the portraits I want to capture."
---