Stunning Microscopic View of Human Skin Cells Wins 2017 Nikon Small World Competition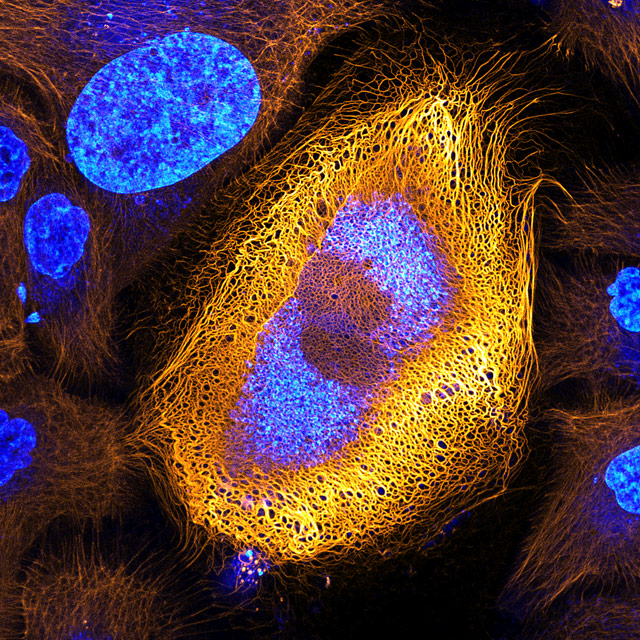 Posted on October 04, 2017
Nikon Instruments Inc. today continues celebrating its 100th anniversary by unveiling the winners of the 43rd annual Nikon Small World Photomicrography Competition, with Dr. Bram van den Broek of The Netherlands Cancer Institute (NKI) taking first place for his photo of a skin cell expressing an excessive amount of keratin. He came across this peculiar but beautiful skin cell while researching the dynamics of keratin filaments with Andriy Volkov, a student in the Cell Biophysics group led by Professor Kees Jalink. 
"There are more than 50 different keratin proteins known in humans. The expression patterns of keratin are often abnormal in skin tumor cells, and it is thus widely used as tumor marker in cancer diagnostics," said Dr. van den Broek. "By studying the ways different proteins like keratin dynamically change within a cell, we can better understand the progression of cancers and other diseases."
Keratin is an important structural protein in skin cells. The keratin fibrous network protects the cells against mechanical stress and is involved in many other cellular functions, like cell migration and adhesion. Studying the structure, dynamics and regulation of the keratin network can reveal information about such processes and potentially identify cell abnormalities. In certain types of cancer, for instance, reduced amounts of specific keratins are indicative for tumor aggressiveness. 
"This year's winners not only reflect remarkable research and trends in science, but they also allow the public to get a glimpse of a hidden world," said Eric Flem, Communications Manager, Nikon Instruments, "This year's winning photo is an example of important work being done in the world of science, and that work can be shared thanks to rapidly advancing imaging technology." 
Like the first place winner, this year's second place photo captures another subject we see every day from a microscopic perspective – the flowering head of a plant (Senecio vulgaris). Dr. Havi Sarfaty of Yahud-Monoson, Israel, submitted this photo because of how it represents the unseen complexity of a supposedly simple garden flower. 
Although this year's third place photo by Mr. Jean-Marc Bablian of Nantes, France looks like it came from a beloved vintage video game, it is actually a living volvox algae releasing its daughter colonies.  
In addition to first, second and third prize winners, Nikon Small World recognized an additional 85 photos from more than 2,000 entries from 88 countries around the globe. 
"What I most enjoy about this competition is that a larger audience can appreciate the beautiful complexity and diversity of the world unseen by the naked eye," said van den Broek. 
The 2017 judging panel includes: 
Dr. Bob Goldman: Chair, Department of Cell and Molecular Biology, Northwestern University Feinberg School of Medicine.
Robert Krulwich: Radio and television journalist who currently serves as a science correspondent for NPR and is a co-host of the award-winning WNYC program Radiolab.
Dave Mosher: Science and technology correspondent at Business Insider with more than a decade of digital, print, video, and photo journalism experience.
Dr. Clare Waterman: National Institute of Health (NIH) Distinguished Investigator at the Laboratory of Cell and Tissue Morphodynamics. 
Eric Clark (Moderator): Research Coordinator and Applications Developer at the National High Magnetic Field Laboratory at Florida State University.
As part of Nikon's 100th anniversary celebration, the winners of the 2017 Nikon Small World and Nikon Small World in Motion competitions, received a trip to Tokyo, Japan, to visit Nikon's headquarters and to participate in an exclusive tour of the factory and facilities. For additional information and for an inside look at the Japan excursion with our winners, please visit www.nikonsmallworld.com, or follow the conversation on Facebook, Twitter @NikonSmallWorld and Instagram @NikonInstruments.
---