Vibrant, Brilliantly Hued Photo of Cell Dividing Wins Silver Anniversary Nikon Small World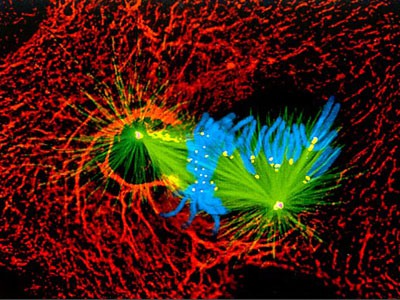 Posted on December 06, 1999
An extraordinary photograph of a newt lung cell in the process of dividing, shot by New York State Department of Health research scientist Alexey Khodjakov, has been awarded first prize in the 1999 Nikon International Small World Competition.  Mr. Khodjakov's winning entry merges the techniques of scientific inquiry with aesthetic beauty to create a vibrant, dynamic image that reflects its subject while creating an artistic work of the highest order.
 
Now celebrating its silver anniversary, the annual Nikon International Small World Competition was founded in 1975 to recognize excellence in photography through the microscope.  During this quarter century, it has grown in stature, and is now regarded as the foremost forum for recognizing excellence in photographing the mysterious, unseen universe glimpsed through a light microscope.  Over the years, winning images have depicted everything from common household objects such as bleach, sugar, mothballs and detergent, to foods including oranges and potato chips, medications as diverse as Viagra and AZT, industrial images of integrated circuits and textiles, curiositieslike dinosaur bones, and disease states like osteoporosis and cancer.  The competition is open to anyone with an interest in photomicrography, and winners have included not only scientists, but hobbyists, clergymen, gold prospectors, industrial photographers, and engineers. Photos in this year's competition were judged on the basis of originality, informational content, technical proficiency and visual impact.  In all, 20 winners and 16 honorable mentions in the 1999 competition will be honored in festivities tonight at the Bryant Park Grill in New York City, and thousands of dollars in prizes will be awarded to winning and honorable mention photographers from seven countries around the world.  Khodjakov receives Nikon photo equipment valued at $4,000, and will be joined by numerous winners traveling from around the world to receive their prizes.
 
As in previous years, winning entries in this year's Nikon Small World Competition represent a stunning range of subjects.  While some depict pioneering efforts in industrial and life science research, others simply represent the photographers' forays into the beauty of the microworld.  To create his winning image, Khodjakov used five different dyes.  Since conventional fluorescence filters allows for only three different colors, he first stained for kineochores and centrosomes, then extracted the antibodies by low-pH treatment and restained for microtubules, keratin and chromosomes. All five data sets were collected as 3D volumes covering the entire cells. These original data sets were assembled together using a computer, and then mathematically deconvolved to reduce out-of-focus light.  His winning entry represents the one of the most important moments in intracellular life. It was shot at 240X. This year's second prize winner, Lars Bech, of Naarden, the Netherlands, is a repeat winner, having won the competition in 1992 and 1996.  He used polarized light to shoot Viagra(R) dissolved in ammonia, at 50X.  He will receive a Nikon N70 camera with a speedlight and camera case. Third place was awarded to Daphne Zbaeren-Colbourn, of Bern, Switzerland. Her photo of a mangrove leaf (Rhizophora mangle) was shot using fluorescent light at 40X.  For her prize, Zbaeren-Colbourn will receive a Nikon N60 camera with a 35-80mm f/4-5.6 AF Zoom Nikkor lens and camera case. Christian Frie, of the Institute of Biochemistry II, Koln, Germany, was awarded fourth prize for his photo of a parasite captured with differential interference contrast at 100X.  Mr. Frie will receive a Nikon N60 camera with a 50mm f/1.8 AF Nikkor lens and eveready camera pouch.
Judges
The judges for the 25th anniversary competition were Martin L. Scott, an internationally known consultant in photographic imaging; Daniel Farkas, of the University of Pittsburgh and Carnegie Mellon University; Todd James, of National Geographic Magazine; William K. Barnett of the American Museum of Natural History; and Michael W. Davidson, of the National High Magnetic Field Laboratory at Florida State University.  For complete biographies of the judges, see "Small World Judges' Biographies" enclosed.
Calendar
The 20 winning entries from this year's competition are reproduced in full color in Nikon's Year 2000 Small World Calendar, which can be purchased from Nikon Inc., 1300 Walt Whitman Road, Melville, NY 11747, USA.
International Exhibit Tour
The winning photographs will begin touring science and public museum centers throughout the U.S. this month.  The exhibit will appear over the coming year in such locations as New York City; Eugene and Portland, OR, Atlanta, Des Moines, IA, Phoenix, Hartford, CT, Trenton, NJ, Syracuse, NY, Oak Ridge, TN, Dallas, Mobile, AL, Nashville, Woods Hole, MA, Tampa, FL and Kingsville, TX.
 
For more information on exact tour dates, see accompanying "Nikon Small World Museum Exhibit Schedule."
---