Chick Embryo Wins Popular Vote in Nikon Small World Competition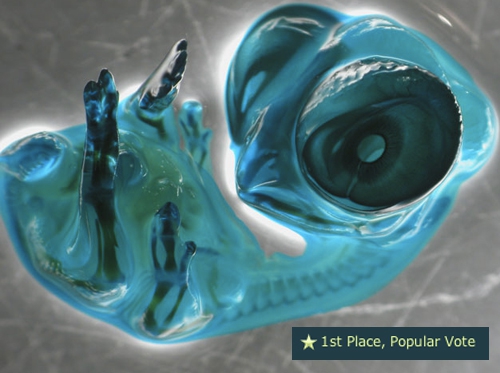 Posted on October 16, 2008
A chick embryo captured the public's attention and its votes in the 2008 Nikon Small World Photomicrography Competition. The public chose the image, captured by Tomas Pais de Azevedo of Lisbon, Portugal, as its favorite image for recognition as the Popular Vote winner of this year's competition. Pais de Azevedo is a biology student currently enrolled in a master's course on evolutionary and developmental biology.
Voters chose Pais de Azevedo's image from the 115 finalists featured at http://www.nikonsmallworld.com/. Nikon recognized the image alongside the other winners of this year's competition at an event at the Astor Center in New York City on October 15th.
Additionally, Nikon recognized Dr. Sharona Even-Ram of Hadassah University Hospital, Ein Kerem in Jerusalem, Israel, who received second place in the Popular Vote for an image of a cluster of neurons differentiated from embryonic cells. Both Pais de Azevedo's and Even-Ram's images were also named Images of Distinction.
"The Popular Vote engages a broad audience of scientists and non-scientists alike and gives everyone the ability to serve as judges," said Lee Shuett, executive vice president, Nikon Instruments. "These images showcase the tremendous beauty and detail that can be captured as part of the scientific process."
Founded in 1974 to recognize excellence in photography through the microscope, Nikon Small World is the leading forum for celebrating the beauty and complexity of objects seen through the light microscope. The 2008 winning photographers were recognized last night at the Astor Center in New York City. Nikon also unveiled the complete gallery of winning photomicrographs set to tour science and art museums across the nation beginning October 24th. Images are also available in the Small World calendar, which can be purchased at http://www.nikonsmallworld.com/, and in an online gallery featured at the same location.
ABOUT THE NIKON SMALL WORLD PHOTOMICROGRAPHY COMPETITION
The Nikon Small World Photomicrography Competition is open to anyone with an interest in photography. Participants may submit their images in traditional 35mm format, or upload digital images directly at http://www.nikonsmallworld.com/. The first and second of 20 prize winners will receive a selection of Nikon products and equipment worth $3,000 and $2,000 respectively. For additional information, contact Nikon Small World, Nikon Instruments Inc., 1300 Walt Whitman Road, Melville, NY 11747, USA or phone (631) 547-8569. Entry forms for Nikon's 2007 Small World Competition may also be downloaded from http://www.nikonsmallworld.com/.
ABOUT NIKON INSTRUMENTS INC.
Nikon Instruments Inc., world leader in microscope and advance digital imaging technology, is committed to providing its customers with quality products for bioscience research and industrial applications; high-performance semiconductor wafer handling and inspection equipment, and advance high-speed, vision-based and optical measuring tools. For more information, visit the Nikon Web site at http://www.nikoninstruments.com/. Product related inquiries can be directed to Nikon Instruments at 800-52-NIKON.
---