Marine Diatoms Capture Top Honors at Nikon Small World 2008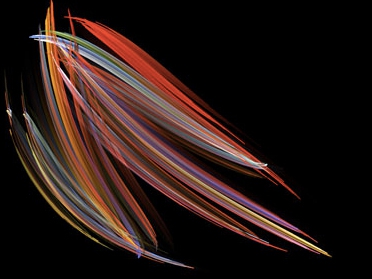 Posted on October 16, 2008
With the appearance of gracefully swooping beams of light or a colorful array of feathers, a dazzling photo of Pleurosigma (marine diatoms) has won the 2008 Nikon Small World Photomicrography Competition. Michael Stringer of Westcliff-on-Sea, Essex, United Kingdom took home the top honor with this image, which was magnified 200 times and taken using darkfield and polarized light.
Nikon Small World recognizes Mr. Stringer's image, along with the other 2008 winners, for showing both scientific and artistic qualities. Nearly 2,000 entries were received this year, the most ever for the competition, from scientists and artists across the world. The winning images were selected by a distinguished panel of judges.
"My objective was to display diatoms in today's modern style, through the careful application of colors," said Mr. Stringer, "I couldn't be more pleased that the Small World judges recognized the artistic vision in this image. I dedicate this award to the diatom and especially to my dear friend, Klaus Kemp, who in my opinion creates the most exquisite slides of these tiny bits of silica."
Founded in 1974 to recognize excellence in photography through the microscope, Nikon Small World is the leading forum for celebrating the beauty and complexity of objects seen through the light microscope. The 2008 winning photographers were recognized last night at the Astor Center in New York City. Nikon also unveiled the complete gallery of winning photomicrographs set to tour science and art museums across the nation beginning October 24th. Images are also available in the Small World calendar, which can be purchased at http://www.nikonsmallworld.com/, and in an online gallery featured at the same location.
"The photo that Michael Stringer produced is remarkable, as were all the contributions to Small World 2008," said Lee Shuett, executive vice president, Nikon Instruments. "To see the world's tiniest objects captured in such a majestic way puts our very existence into perspective."
The top three images include Mr. Stringer's diatoms, Paul Marshalls' picture of post-growth carbon nanotubes, and Albert Tousson's image of Convallaria majalis (Lily of the Valley). Nikon has also awarded several "Honorable Mentions" and "Images of Distinction" this year to outstanding photomicrographs that demonstrate superior technical competency and artistic skill.
This year's judges again represented top industry experts and included Ivan Oranksy, Managing Editor, online, Scientific American; Alice Park, Department Head, Science, Time Magazine; David L. Spector, Director of Research and Head of the Gene Regulation Program, Cold Spring Harbor Laboratory; Ron Strum, Senior Petrographer, CTLGroup; and Michael Davidson, Director of the Optical and Magneto-Optical Imaging Center at the National High Magnetic Field Laboratory at Florida State University.
---