Crystallized Solgel Chemical Takes Top Prize in the Nikon Small World Popular Vote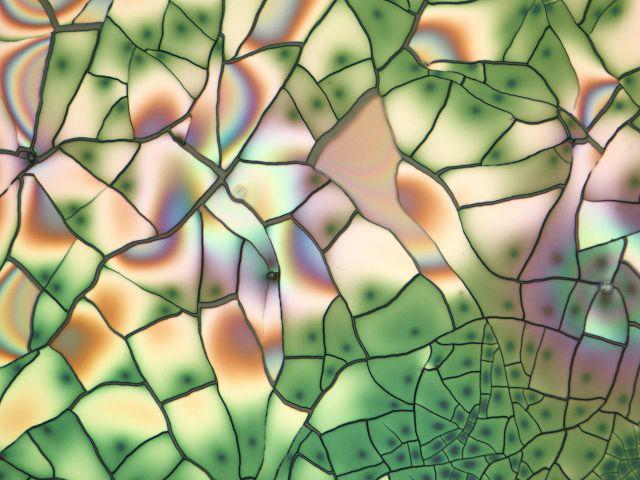 Posted on October 06, 2007
It was an image resembling a fine stained-glass window that won the hearts of voters in the first-ever Popular Vote in the Nikon Small World Photomicrography Competition. The image, captured by Marc Van Hove of Centexbel in Belgium, depicts crystallized solgel chemical at a magnification of 50x.
Voters chose Van Hove's image from the 97 finalists featured at http://www.nikonsmallworld.com/. It was recognized alongside the other winners of this year's competition on October 4th at the Explorers Club in New York City.
"Through this year's Popular Vote, we sought to generate excitement about science and a greater understanding of microscopy among the general public," said Eric Flem, communications manager, Nikon Instruments, Inc. "Van Hove's image showcases the beauty that can be captured as part of the scientific process."
Additionally, Nikon recognized Christian Gautier of BIOS/PHONE photo agency in France, who received second place in the Popular Vote. Gautier's image depicts a crosscut of a cedar leaf captured at a magnification of 200x. Gautier's image also was awarded 14th place by this year's Small World judges. Van Hove's image received an Image of Distinction.
Founded in 1974 to recognize excellence in photography through the microscope, Nikon Small World is the leading forum for celebrating the beauty and complexity of objects seen through the light microscope. Images are available in the Small World calendar, which can be purchased at http://www.nikonsmallworld.com/, and in the online gallery featured at the same location. This year marks the first time Nikon brought judging of the annual competition to the public.
ABOUT NIKON INSTRUMENTS INC.
Nikon Instruments Inc., world leader in microscope and advance digital imaging technology, is committed to providing its customers with quality products for bioscience research and industrial applications; high-performance semiconductor wafer handling and inspection equipment, and advance high-speed, vision-based and optical measuring tools. For more information, visit the Nikon Web site at http://www.nikoninstruments.com/. Product related inquiries can be directed to Nikon Instruments at 800-52-NIKON.
---