Mouse Embryo Captures Top Honors At Nikon Small World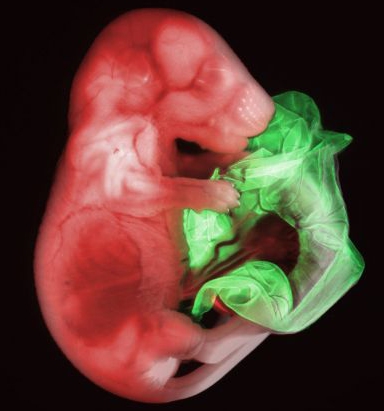 Posted on October 05, 2007
From a background of blackness emerges a peaceful image of bright red and green - a double transgenic mouse embryo - this year's winning entry in the Nikon Small World Photomicrography Competition. The image was captured by Gloria Kwon, a researcher at the Memorial Sloan Kettering Institute, using widefield microscopy and red and green fluorescence.
Nikon Small World recognizes Kwon's image, along with the other 2007 winners, for depicting both scientific and artistic qualities, illustrating proficiencies in both areas. The winning images were selected from over 1,700 photomicrograph entries from scientists and artists from around the globe and judged by a panel of experts.
"Nikon Small World provides the opportunity for the general public to experience the beauty that can be generated through scientific research," said Lee Shuett, executive vice president, Nikon Instruments. "As digital imaging capabilities continue to advance, our abilities to capture and share the tiniest of objects continue to grow. We celebrate every Small World contributor as we honor the 2007 winners."
Founded in 1974 to recognize excellence in photography through the microscope, Nikon Small World is the leading forum for celebrating the beauty and complexity of objects seen through the light microscope. The 2007 winning photographers were recognized last night at the Explorers Club in New York City, a famed meeting point and unifying force for explorers and scientists worldwide. Nikon also unveiled the complete gallery of winning photomicrographs set to tour science and art museums across the nation beginning October 12. Images are also available in the Small World calendar, which can be purchased at http://www.nikonsmallworld.com/, and in an online gallery featured at the same location.
The top three images include Kwon's image of the mouse embryo, Michael Hendricks' image of a zebrafish brain cross-section and Wim van Egmond's image of a rotifer, a microscopic marine animal. Nikon has also awarded several "Images of Distinction" this year to outstanding photomicrographs that demonstrate superior technical competency and artistic skill.
"Each image offers a glimpse into an unseen world," said Eric Flem, communications manager, Nikon Instruments. "From viewing the smallest specimens to uncovering new levels of detail, these images broaden our understanding of how everything is connected."
This year's judges again represented top industry experts and included Thomas Deerinck, research scientist, National Center for Microscopy and Imaging Research and the Center for Research on Biological Systems at the University of California, San Diego; Nicole Dyer, senior editor, Popular Science; John Hart, atmospheric and oceanic science professor, University of Colorado, Boulder; Malcolm Ritter, science writer, Associated Press; and Daniel Sieberg, science and technology correspondent, CBS News. Michael Davidson, Director of the Optical and Magneto-Optical Imaging Center at the National High Magnetic Field Laboratory at Florida State University served as a consultant to the judges.
---