Flowering Plant Anther Captures Top Honors in 2009 Nikon Small World Competition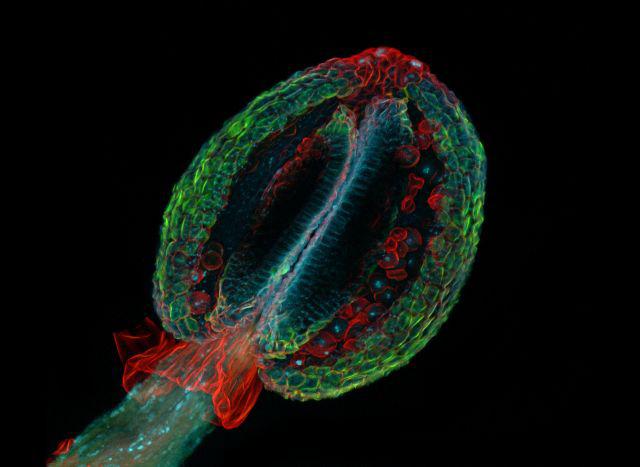 Posted on October 08, 2009
A magnificent depiction of the essence of floral life, a gorgeous photograph of a thale cress anther (the male sex organ of a small flowering plant) is the winning image in the 2009 Nikon Small World Photomicrography Competition. Heiti Paves of Tallinn, Estonia took the top honor with this image, which was magnified 20 times and taken using a confocal microscope.
Nikon Small World recognizes Dr. Paves' image, along with the other winners from this year, for showing both scientific and artistic qualities. More than 2,000 entries were received this year, the most ever for the competition, from scientists and artists across the world. The winning images were selected by a distinguished panel of judges.
"As part of my work as a research scientist, I have been taking photographs through the microscope for almost 30 years to observe the processes in living cells. I have spent a lot of time to capture nice pictures worthy of submission to the Nikon Small World Competition," said Heiti Paves, a scientist of Tallinn University of Technology. "I am honored to receive this recognition and am excited for the opportunity to share my work broadly."
Now in its 35th year, Nikon Small World is the oldest and most respected competition of its kind. The competition, which has become the preeminent forum for showcasing the beauty and complexity of life as seen through the light microscope, celebrates the world's best photomicrographers who create beautiful imagery while showcasing a wide variety of advanced scientific disciplines. Nikon Small World recognizes photomicrographers for their achievements in capturing dynamic images at the intersection of science and art.
"We are lucky to see some of the most unbelievable things under the microscope. This competition is truly the world's gallery, giving researchers and photographers globally the opportunity to share their amazing work," said Lee Shuett, executive vice president, Nikon Instruments. "Every year the competition gets better and better. It is clearly reflecting the discovery process – not in just life science but in industry as well."
The top five images this year include Dr. Paves' thale cress anther, Gerd Guenther's picture of a spiny sowthistle's stem, Dr. Pedro Barrios-Perez's image of a wrinkled photoresist, James Hayden's colorful, spiraling image of an anglerfish ovary and Bruno Vellutini's photomicrograph of the oral surface of a young seastar. Nikon has also awarded several "Honorable Mentions" and "Images of Distinction" this year to outstanding photomicrographs that demonstrate superior technical competency and artistic skill.
"The Nikon Small World competition provides a premier opportunity to have your work seen by an enormous amount of international venues," said Mr. James Hayden, manager of the microscopy facility at the Wistar Institute in Philadelphia and 2009 Small World 4th Place winner with a colorful, spiraling image of an anglerfish ovary. "As the competition has grown through film and digital techniques, it has showcased amazing new technologies like confocal and 2-photon imaging, and it has helped create that spark of interest in a new generation. These images are ambassadors – introducing the scientific accomplishments of the research world to the general public."
This year's judges again represented top industry experts and included Gary Borisy, Ph.D., Director and Chief Executive Officer, Marine Biological Laboratory; Charles Krebs, Photographer, Charles Krebs Photography; James Shreeve, Science Editor, National Geographic; and Clive Thompson, Journalist.
Top images from the 2009 Nikon Small World Competition will be exhibited in a full-color 2010 calendar and through a national museum tour. For additional information, including tour cities and dates, please visit www.nikonsmallworld.com.
---