Nikon Instruments Announces Judges for Nikon Small World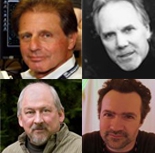 Posted on April 28, 2009
Celebrating a 35 year history that has included some of the most prestigious names in science and scientific reporting, Nikon Instruments announced today the judges for the 2009 Nikon Small World Photomicrography Competition. Since Nikon Small World's inception in 1974, the competition has continued to grow, in part due to the excellence of the work submitted as well as the prestigious judges who have lent their expertise to the program.
The judges for the 2009 Nikon Small World Photomicrography Competition are:
• Gary Borisy, Ph.D., Director and Chief Executive Officer, Marine Biological Laboratory
• Charles Krebs, Photographer, Charles Krebs Photography
• James Shreeve, Science Editor, National Geographic
• Clive Thompson, Journalist
Nikon Small World rewards the world's best photomicrographers who make critically important scientific contributions to life sciences, bio-research and materials science, while showing an understanding of the beauty that can occur at the intersection of science and art. The competition is the preeminent forum for showcasing the beauty and complexity of life as seen through the light microscope and over the years has received international recognition in both the science community and among art and photography lovers.
The Nikon Small World Competition closes on April 30th. Winners will be announced this fall. For additional information, please visit www.nikonsmallworld.com.
About Nikon Small World Photomicrography Competition
The Nikon Small World Photomicrography Competition is open to anyone with an interest in photography. Participants may submit their images in traditional 35mm format, or upload digital images directly at www.nikonsmallworld.com. The first and second of 20 prize winners will receive a selection of Nikon products and equipment worth $3,000 and $2,000 respectively. For additional information, contact Nikon Small World, Nikon Instruments Inc., 1300 Walt Whitman Road, Melville, NY 11747, USA or phone (631) 547-8569. Entry forms for Nikon's 2009 Small World Competition may also be downloaded from www.nikonsmallworld.com.
About Nikon Instruments Inc.
Nikon Instruments, Inc. is a world leader in the development and manufacture of optical and digital imaging technology for biomedical and industrial applications. Now in its 91st year, Nikon provides complete optical systems that offer optimal versatility, performance and productivity. Cutting-edge instruments include microscopes, precision measuring equipment, digital imaging products and software. Nikon Instruments is the microscopy and instrumentation arm of Nikon Inc., the world leader in digital imaging, precision optics and photo imaging technology. For more information, visit www.nikoninstruments.com. Product-related inquiries may be directed to Nikon Instruments at 800-52-NIKON.
---