Microscopic Fish Face Takes First Place in 2016 Nikon Small World Competition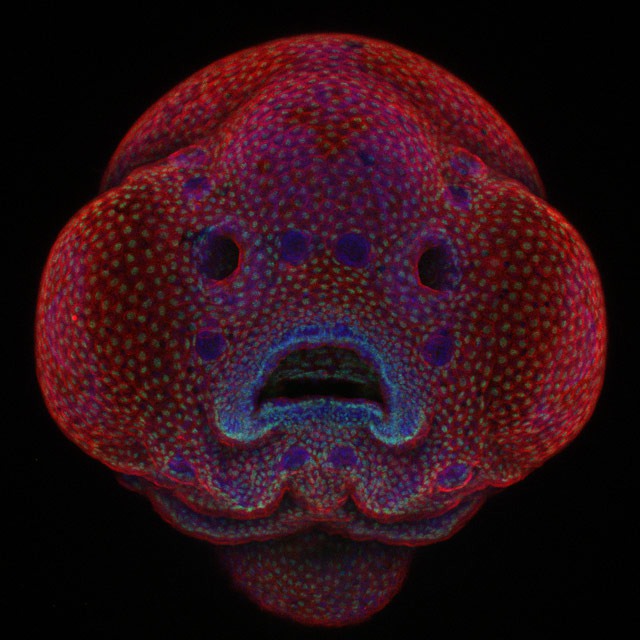 Posted on October 19, 2016
Nikon Instruments Inc. today announced the winners of the 42nd annual Nikon Small World Photomicrography Competition, awarding first place to Oscar Ruiz, Ph.D. for his microscopic view of the facial development of a four-day-old zebrafish embryo. Fittingly, Nikon unveiled Dr. Ruiz's zebrafish "selfie" win first on Instagram this morning, giving followers the first look at the winning images.
Dr. Ruiz brings the world face-to-face with his research on facial development and cellular morphogenesis with his winning image of a four-day-old zebrafish embryo. Dr. Ruiz uses the zebrafish to study genetic mutations that lead to facial abnormalities such as cleft lip and palate in humans in the lab of Dr. George Eisenhoffer at The University of Texas MD Anderson Cancer Center in Houston, Texas.
In addition to Dr. Ruiz, Nikon recognized 76 other winners of the 2016 Small World competition, which is comprised of ranked top twenty winning images, 14 Honorable Mentions and 61 Images of Distinction. Scientists, photographers and hobbyists from 70 countries submitted more than 2,000 entries. Judges selected winners that exemplified artistic quality as well as exceptional scientific technique.
Veteran competitor Douglas Moore of Stevens Point, Wisconsin, received second place for his exquisite and colorful image of a polished slab of Teepee Canyon Agate. The third place image by Rebecca Nutbrown of Oxford, United Kingdom, depicts a culture of neurons derived from human skin cells. 
"Whether an image provides a rare glimpse into cutting-edge medical research as we saw from our first place winner, or reveals a fun "too-close-for-comfort" look into the eyes of a spider like one of our Images of Distinction, each evokes a powerful reaction from our judges. Every year we're looking for that image that makes people lean forward in their seats, sparks their curiosity and leads them to ask new questions," said Eric Flem, Communications Manager, Nikon Instruments. "Nearly 100 years of microscopy has paved the way for the evolving technology and innovative techniques that continue to raise the bar of this competition.  Congratulations to all of the winners and entrants for their incredible work."
For those interested in taking their turn in the judge's seat, the Nikon Small World Popular Vote is continuing through October 25th. Participants can vote daily for their favorite image among all of the finalists.
The judges were intrigued by Ruiz's innovative techniques to capture time-lapse images of the developing zebrafish face. Using the time-lapse as a guide, Ruiz is creating an atlas of the development of the zebrafish face. His group is tracking physical landmarks throughout development to create a series of metrics that can be used to accurately describe the cellular movements that occur during the normal development of the face.  These metrics can then be used to identify abnormalities in the development of zebrafish harboring specific genetic mutations identified in human patients.  He hopes that these findings will help provide insight into the cellular and molecular mechanisms that are altered in patients with facial deformities.
"Until now, these facial abnormalities had not been extensively studied in a live context where you can see what's happening during development in real-time," said Ruiz. "Using a live-imaging approach means we can better understand and pinpoint exactly how and why these developmental abnormalities occur. The first step is knowing how it happens, then we can figure out how to fix it."
Top Five Images:
1. Dr. Oscar Ruiz, Four-day-old zebrafish embryo
2. Douglas Moore, Polished slab of Teepee Canyon Agate
3. Rebecca Nutbrown, Culture of neurons derived from human skin cells
4. Jochen Schroeder, Butterfly proboscis
5. Dr. Igor Siwanowicz, Front foot (tarsus) of a male diving beetle
This year's remarkable roster of judges once again included a combination of distinguished names in the scientific community, science journalism, imaging and video production. The 2016 panel includes:
• Eric Clark: Research Coordinator and Applications Developer at the National High Magnetic Field Laboratory at Florida State University.
• Dr. Joe Hanson: Biologist, science writer, and the creator and host of PBS Digital Studios' science education show "It's Okay To Be Smart."
• Rachel Link: Producer for National Geographic curating content for the publication's Short Film Showcase.
• Dr. Brian J. Mitchell: Associate Professor in Cell and Molecular Biology at Northwestern University Feinberg School of Medicine in Chicago.
• Dr. Clare Waterman:  National Institute of Health (NIH) Distinguished Investigator at the Laboratory of Cell and Tissue Morphodynamics.
Top images from the 2016 Nikon Small World Competition will be exhibited in a full-color calendar and through a national museum tour. For additional information, please visit www.nikonsmallworld.com, or follow the conversation on Facebook, Twitter (@NikonSmallWorld) and Instagram (@NikonInstruments).
Nikon Small World In Motion
The celebration of science and art under the microscope continues with another Nikon Small World unveiling still around the corner—this time in the form of video. Nikon will first reveal the winners of its sister competition, Nikon Small World in Motion, via Instagram (@NikonInstruments) on December 7, 2016.
---