Nikon Instruments Unveils Judges for 32nd International Small World Competition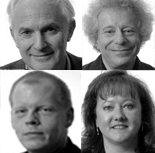 Posted on May 02, 2006
Nikon Instruments Inc. today announced the judging panel for the 32nd International Small World Photomicrography Competition. The competition spotlights excellence in photomicrography, and celebrates an alliance between art and science as captured through the lens of the optical microscope. This year's competition continues to build on past success by attracting entries submitted by professional and amateur microscopists from around the globe. These photographers bring their unique perspective to their subjects, blending their technical and artistic talents to produce images that represent emerging trends in science and technology.
Judges chosen by Nikon for the competition include: Sir Harold W. Kroto, 1996 Nobel Laureate in Chemistry for his discovery of fullerenes (also known as buckyballs) which has opened up a new field of carbon chemistry. Also on the panel are Cristina Scalet, Science Photo Editor for Time Magazine; Vladimir Gelfand, Professor of Cell and Molecular Biology, Feinberg School of Medicine, Northwestern University; JD Talasek, Director, Office of Exhibitions and Cultural Programs, National Academy of Sciences; and, judges consultant Michael Davidson, Senior Research Engineer, National High Magnetic Field Laboratory at Florida State University.
The distinguished Judges selected for the 32nd Small World competition reflect excellence in scientific, educational and photographic specialties, and will evaluate Small World image submissions on originality, informational content, technical proficiency, and visual achievement. Nikon will recognize Small World winners on September 21, 2006 at the 26 + Helen Mills Theater in New York City.About Nikon Small World
The Nikon International Small World Competition was founded in 1974 to recognize excellence in photography through the microscope. The competition's reputation has grown over the years to be regarded as the leading forum for recognizing the art, proficiency and photographic excellence involved in photomicrography. Winning images are exhibited during the course of the year in several formats including an annual four-color calendar, a national museum tour and an electronic gallery. For more information about Small World, or to view a gallery of winning photos, visit Nikon's Web site at http://www.nikonsmallworld.com .
About Nikon Instruments Inc.
Nikon Instruments Inc., is a global leader in the development of advanced optical technology. Its product line includes microscopy equipment, digital imaging, precision measuring and semiconductor wafer-handling equipment. Nikon is committed to providing technologically advanced instruments that offer optimal versatility, performance and productivity. Nikon combines state-of-the-art capabilities with innovative designs to produce optically superior, ergonomically friendly products for cutting-edge scientific research, medical and industrial applications. For more information visit the Nikon website at http://www.nikonusa.com .
---