Nikon's Small World Calendar Showcasing Amazing Photomicrographs Is Now Available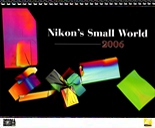 Posted on October 18, 2005
Nikon Instruments, Inc., a world leader in the development of advanced optical technology, today announced the availability of the 2006 Nikon Small World Calendar showcasing the 2005 Nikon Small World winning photomicrographs. This year's complete gallery of winning photomicrographs which are featured in the calendar is set to tour science and art museums across the nation beginning November, 2005.
Nikon also announced today a new deadline of April 28, 2006 for images to be submitted for the 2006 Nikon Small World Competition, and recently added a new award category titled "Images of Distinction." These awards are granted to outstanding photomicrographs submitted by Small World contestants whose images demonstrate technical competency and artistic skill. Images of Distinction for 2005 are available for review on Nikon's Small World Web site.
"Nikon's Small World calendar features some of the most amazing images you can imagine," said Eric Flem, communications manager, Nikon Instruments. "The calendar is an excellent way to share the wonder of the natural world with friends and family each month of the year."
To obtain Nikon's new Small World calendar, and to submit images to next year's Small World competition, go to Nikon's Small Word Web site at http://www.nikonsmallworld.com.
ABOUT NIKON SMALL WORLD.
The Nikon Small World Photomicrography Competition is open to anyone with an interest in photomicrography. Participants may submit their images in traditional 35mm format, or upload digital images directly at MicroscopyU. The first and second of twenty prizewinners will receive a selection of Nikon products and equipment worth $3,000 and $2,000 respectively. For additional information, contact Nikon Small World, Nikon Instruments Inc., 1300 Walt Whitman Road, Melville, NY 11747, USA or phone (631) 547-8569. Entry forms for Nikon's 2006 Small World competition may also be downloaded from MicroscopyU.
ABOUT NIKON INSTRUMENTS INC.
Nikon Instruments Inc., world leader in microscope and advanced digital imaging technology, is committed to providing its customers with quality products for bioscience research and industrial applications; high-performance semiconductor wafer handling and inspection equipment; and advanced high-speed, vision-based and optical measuring tools. For more information, visit the Nikon Web site at http://www.nikonusa.com. Product related inquiries can be directed to Nikon Instruments at 800-52-NIKON.
2005 Nikon Small World Museum Tour
Tour # 1
Wistar Institute
Philadelphia, PA
November 11th 2005
December 18th 2005
Oregon Museum of Science
Portland, OR
December 30th 2005
February 1st 2006
The Science Factory
Eugene, OR
February 17th 2006
March 19th 2006
Arizona Science Center
Phoenix, AZ
March 31st 2006
April 30th 2006
Fernbank Science Center
Atlanta, GA
May 12th 2006
July 9th 2006
Marine Bio Lab
Woods Hole, MA
July 28th 2006
September 3rd 2006
Science World
Vancouver, BC, Canada
September 15th 2006
November 5th 2006
Science Place
Dallas, TX
November 17th 2006
January 10th 2007
Tour # 2
New Jersey State Museum
Trenton, NJ
November 9th 2005
January 29th 2006
UMASS Herter Art Gallery
Amherst, MA
February 1st 2006
March 1st 2006
Science Center of Connecticut
West Hartford, CT
March 17th 2006
May 21st 2006
New Mexico Museum of Natural History
Albuquerque, NM
June 2nd 2006
August 20th 2006
Tech Museum of Innovation
San Jose, CA
September 1st 2006
October 22nd 2006
Museum of Science & Industry
Tampa, FL
November 3rd 2006
January 14th 2007
Tour #3
Society for Neuroscience
Washington, DC
November 13th 2005
November 16th 2005
American Society for Cell Biology
San Francisco, CA
December 11th 2005
December 14th 2005
New York Hall of Science
Corona, NY
December 30th 2005
March 5th 2006
Pacific Science Center
Seattle, WA
March 17th 2006
May 28th 2006
American Museum of Science
Oak Ridge, TN
June 9th 2006
August 13th 2006
Texas Freshwater Fisheries Center
Athens, TX
August 25th 2006
October 29th 2006
Tour # 4
Maryland Science Center
Baltimore, MD
November 12th 2005
February 26th 2006
Museum of Science & Technology
Syracuse, NY
March 5th 2006
May 7th 2006
Utah State Center for Integrated BioSystems
Logan, UT
May 19th 2006
July 9th 2006
Adventure Science Center
Nashville, TN
July 21st 2006
December 17th 2006
Rochester Institute of Technology
Rochester, NY
January 2nd 2007
Fall 2007
---