Common Housefly Soars to First Place at Nikon's Small World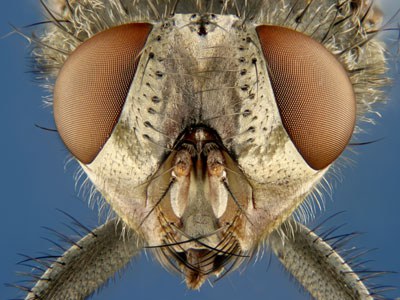 Posted on October 06, 2005
Bristling with sharp, sensitive antennae, bulbous eyes with 4,000 lenses, and a mouth that sucks up food using a bellows-like pump in its head, the common housefly is one of 119,500 known species of fly, and this year's winning image in Nikon's Small World competition. Founded in 1975 to recognize excellence in photography through the microscope, the competition is the leading forum for celebrating the beauty and complexity of objects seen through the light microscope. This year's winning photographers will be recognized this evening at New York's famed Hudson Theatre where Nikon will unveil the complete gallery of winning photographs set to tour science and art museums across the nation beginning January 1st. The top three images include Mr. Charles Krebs' photomicrograph of a common housefly, Mr. Thomas Deerinck's quantum dot fluorescence image of a mouse kidney section, and Mr. Stefan Eberhard's crystallized image of vitamin A.
"Nikon's Small World provides a unique opportunity for people to see ordinary things in an extraordinary way," said Lee Shuett, executive vice president, Nikon Instruments. "Modern microscopes have become information technology platforms that combine sophisticated optics, internet communications and advanced software to unveil amazing new worlds in miniature. Tonight, we will honor and celebrate each Small World contributor as we congratulate the 2005 winners."
Nikon is also adding a new award category titled "Images of Distinction" which is granted to outstanding photomicrographs submitted by Small World contestants whose images demonstrate technical competency and artistic skill. Each year, Nikon makes the winning images accessible to the public through the Nikon Small World calendar, a national museum tour, and an electronic gallery featured at http://www.nikonsmallworld.com. Images submitted by Nikon Small World winners' were selected from over 1,700 photomicrographs sent to Nikon by scientists and artists from around the globe and judged by a panel of experts.
For 2005, the Nikon Small World distinguished panel of judges includes Jennifer Waters, Ph.D. Microscopy Director of Harvard Medical School; Todd James, Illustrations Editor for National Geographic magazine; Emily Harrison, Photography Editor of Scientific American magazine; Alexey Khodjakov, Research Scientist at the Wadsworth Center for the New York Department of Health. Michael Davidson, Director of the Optical and Magneto-Optical Imaging Center at the National High Magnetic Field Laboratory at Florida State University served as a consultant to the judges.
"Each one of these photographs helps us a share in a moment of discovery,"said Eric Flem, communications manager, Nikon Instruments. "As we view these images, we can better understand our own role in the universe and how connected we are to each other. I urge people to share this experience when the annual Small World museum tour, launching in January, arrives at a museum near you."
---