Scripps Cell Biologist, Australian Marine Scientist, and Estonian Researcher Gain Nikon Small World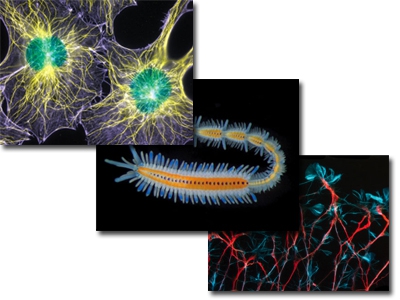 Posted on September 24, 2003
Nikon Instruments Inc., the world leader in microscope and digital imaging technology, announced today the winners of the Nikon 2003 Small World Photomicrography Competition. The winners will be celebrated at a twilight reception at the Reuters Building in New York's Times Square this evening. Dr. Torsten Wittman of The Scripps Research Institute, Dr. Greg Rouse of South Australia Museum, and Dr. Heiti Paves of the Laboratory of Molecular Genetics in Estonia have taken first, second, and third prizes respectively. At the event, Nikon will also debut the complete gallery of winning photos set to tour science and art museums across the nation beginning December 1st.
The photo contest was founded in 1975 to recognize excellence in photography through the microscope. Each year, Nikon makes the winning images accessible to the public through the Nikon Small World calendar, a national museum tour, and an electronic gallery featured at http://www.nikonsmallworld.com. The competition's reputation has grown throughout the years and is regarded as the leading forum for recognizing the beauty and complexity of life as seen through the light microscope.
The Nikon Small World 2003 distinguished panel of judges included Paul Forscher, Ph.D., of Yale University, Carolyn Smith, Ph.D., of the National Institute of Neurological Disorders and Stroke, Kristine LaManna of Popular Science Magazine, Michael Davidson, Ph.D., of Florida State University, and Jennifer Waters Shuler, Ph.D., of Harvard University.
Lee Shuett, Nikon Executive Vice President, who will congratulate the 2003 winners at this evening's event, commented on the collection's stunning quality and its representation of photomicrographers across disciplines and continents. "This year's best photomicrographers are studying cancer, Alzheimer's disease, heart failure, reproductive disorders, marine and plant life, materials science, and more. Each of them-whether in California, Australia, Estonia, Massachusetts, Colorado, Ohio, New York, New Jersey, or Greece-sat at a microscope, found something beautiful, and sent it to us to share with you." Mr. Shuett continued, "The gorgeous gallery of art that is Nikon's 2003 Small World was selected from over 1200 beautiful photomicrographs sent to Nikon by scientists and artists around the globe. Tonight, we will celebrate all of them."
Nikon Communications Manager Eric Flem, who runs the Small World contest and its promotion, disclosed today that, as part of the technology leader's commitment to making science imagery accessible to the public, Nikon Instruments will launch in December an expanded Small World museum tour.
Alison Kartiganer of Pacific Science Center in Seattle, Washington, which will host the Small World exhibit this year, commented today, "The works of art in the Nikon Small World exhibit are exquisite. They are a wonderful reminder of the unique beauty in everything, and a testimony to the natural and wonderful coexistence of art and science. We look forward to bringing it back to Seattle."
Mr. Flem encouraged the public to visit the exhibit when it arrives at a museum nearby. "Whether they show us the intricate beauty of a marine worm or capture the brilliance of a snowflake before it melts away, these photos are about our work as well as our moments of discovery. When we pause to experience them, they remind us of our humble place in the world around us."
---