Who Knew a Rat's Brain Could Be Beautiful?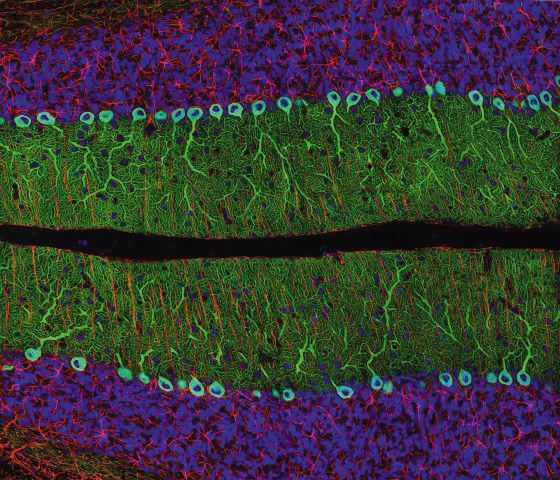 Posted on September 26, 2002
The winning image of the 28th Annual Nikon International Small World Competition, an eclectic combination of reds, blues and greens, looks more like something you would see hanging in an art gallery than an image used in laboratory research. The section of a rat cerebellum, taken by Mr. Thomas Deerinck of La Jolla, California, uses fluorescent dyes to create a striking image that leaps off the page and emphasizes the beauty in the scientific world.
Mr. Deerinck's winning image was derived from ongoing work at the National Center for Microscopy and Imaging Research at the University of California, San Diego to develop methods and technologies for large-scale high-resolution brain mapping using a variety of imaging techniques. His research will provide scientists with information enabling them to gain insight into the causes and potential cures for a wide range of illnesses such as Alzheimer's and Parkinson's disease. "It is an honor to be chosen as first place in the Small World Competition," stated Mr. Deerinck. "Photomicrography is an extremely important part of scientific research, and this competition helps stress the significance of these images by exposing them to a broader audience."
Celebrating its 28th year, the annual Nikon International Small World Competition was founded in 1975 to recognize excellence in photography through the microscope. The competition's reputation has grown throughout the years and is regarded as the leading forum for recognizing the art, proficiency and photographic excellence involved in photomicrography.
Over the past 28 years, the contest has displayed a number of remarkable images covering a wide range of biological, chemical and material substances including cells in culture, deerskin, snowflakes, rat cerebellum, soap, and a human umbilical cord. More than 800 images from around the world were submitted to this year's competition, which were evaluated by an independent four-person judging panel based on originality, informational content, technical proficiency, and visual impact. "The ability to submit digitally has opened up the door for more entries from a broad new family of entrants from all over the world who are utilizing digital photomicrography," stated Lee Shuett, Executive Vice President of Nikon Instruments, Inc.
Twenty images were chosen for this year's Small World Photomicrography exhibit, and were unveiled at New York City's Campbell Apartment. The top three images include Mr. Deerinck's image; a photo of polyethelene in a state of deformation, taken by Zdenka Jenikova of the Czech Republic; and a marine diatom, taken by Wim Van Egmond of the Netherlands. These images will tour the United States and Canada throughout 2003 in a traveling exhibit. Mr. Deerinck will receive a selection of Nikon products and equipment, and a trip, a combined worth of $5,000.
Small World Judges
The 2002 judges are Doug Murphy, PhD, Professor of Cell Biology and Anatomy at Johns Hopkins Medical School, and Director of the School of Medicine Microscope Facility; Maisie Todd, Photography Director, Discover Magazine; Michael Davidson, Director of the Optical and Magneto-Optical Imaging Center at the National High Magnetic Field Laboratory at Florida State University; and Jennifer Waters Shuler, PhD, Director of Nikon's Imaging Center at Harvard University. Elizabeth Carr, student of Communications and Photography at Simmons College and the first American successfully conceived using in vitro fertilization, participated as an honorary judge and distinguished guest.
---