Stunning Marine Diatom "Portrait" Takes First Place in 2013 Nikon Small World Competition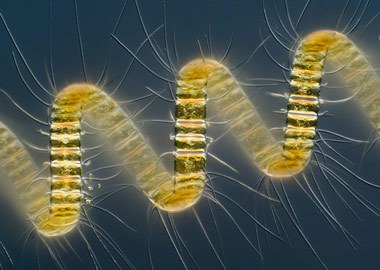 Posted on October 30, 2013
Nikon is pleased to reveal winners of the 2013 annual Nikon Small World Photomicrography Competition, awarding first prize to longtime competitor Wim van Egmond of The Netherlands for his image Chaetoceros debilis (marine diatom). A freelance photographer and artist with a passion for aquatic microorganisms, Egmond sought to blend art and science to capture the complexity and stunning detail of this fragile helical chain.
Along with Egmond, over 100 other winners from around the world were recognized this year for excellence in photomicrography, sometimes for multiple entries.  As always, winning images were selected for displaying both artistic quality and masterful scientific technique.
"This competition brings together some of the top talent from around the world, from all walks of life and scientific disciplines, with more and more incredible entries submitted each year," said Eric Flem, Communications Manager, Nikon Instruments. "After 39 years we are proud to watch the competition continue to grow, allowing us to honor this pool of talented researchers, artists, and photomicrographers, and showcase the importance and beauty of the work they do in the realm of scientific imaging."
First place winner Wim van Egmond is one of Small World's top photomicrographers, with now twenty still images recognized as finalists throughout the last decade. To capture the great complexity and detail of his winning diatom in three-dimensions, Egmond employed a partial image stack of more than 90 images. Foregoing traditional bright, saturated colors, he adjusted the illumination to create a subdued, blue background to contrast with the natural yellow-brown color of the diatom.
"I approach micrographs as if they are portraits. The same way you look at a person and try to capture their personality, I observe an organism and try to capture it as honestly and realistically as possible," said Egmond of his winning image. "At the same time, this image is about form, rhythm and composition. The positioning of the helix, the directions of the bristles, the subdued colors and contrast all bring together a balance that is both dynamic and tranquil."
Top Five Images:
Mr. Wim van Egmond, Micropolitan Museum, Chaetoceros debilis (marine diatom), a colonial plankton organism
Dr. Joseph Corbo, Washington University School of Medicine, Chrysemys picta (painted turtle) retina
Dr. Alvaro Esteves Migotto, Universidade de São Paulo, Centro de Biologia Marinha, Marine worm
Mr. Rogelio Moreno Gill,  Paramecium sp. showing the nucleus, mouth and water expulsion vacuoles
Dr. Kieran Boyle, University of Glasgow, Institute of Neuroscience and Psychology, Hippocampal neuron receiving excitatory contacts
The distinguished judges from this year's exceptional panel are, as always, comprised of some of the most prominent and distinguished minds working in the scientific community and science journalism today. The team charged with selecting the 2013 Nikon Small World winning images includes:
Dr. Ron Vale, Professor and Vice-Chair, Department of Cellular and Molecular Pharmacology, University of California – San Francisco (UCSF); Investigator, Howard Hughes Medical Institute; Founder, iBioSeminars.Org.
Dr. Joan Ruderman, President and Director of the Marine Biological Laboratory
Alan Taylor, Senior Editor, The Atlantic's "In Focus"
Cara Santa Maria, science communicator; Co-host & Producer, TakePart Live on Pivot
Eric Clark, Research Coordinator and Applications Developer at the National High Magnetic Field Laboratory at Florida State University
Michael W. Davidson, Director of the Optical and Magneto-Optical Imaging Center at the National High Magnetic Field Laboratory at Florida State University
Top images from the 2013 Nikon Small World Competition will be exhibited in a full-color calendar and through a national museum tour. For additional information, please visit www.nikonsmallworld.com, or follow the conversation on Facebook and Twitter @NikonSmallWorld.
---