A Virtual Glimpse Into Microscopic Life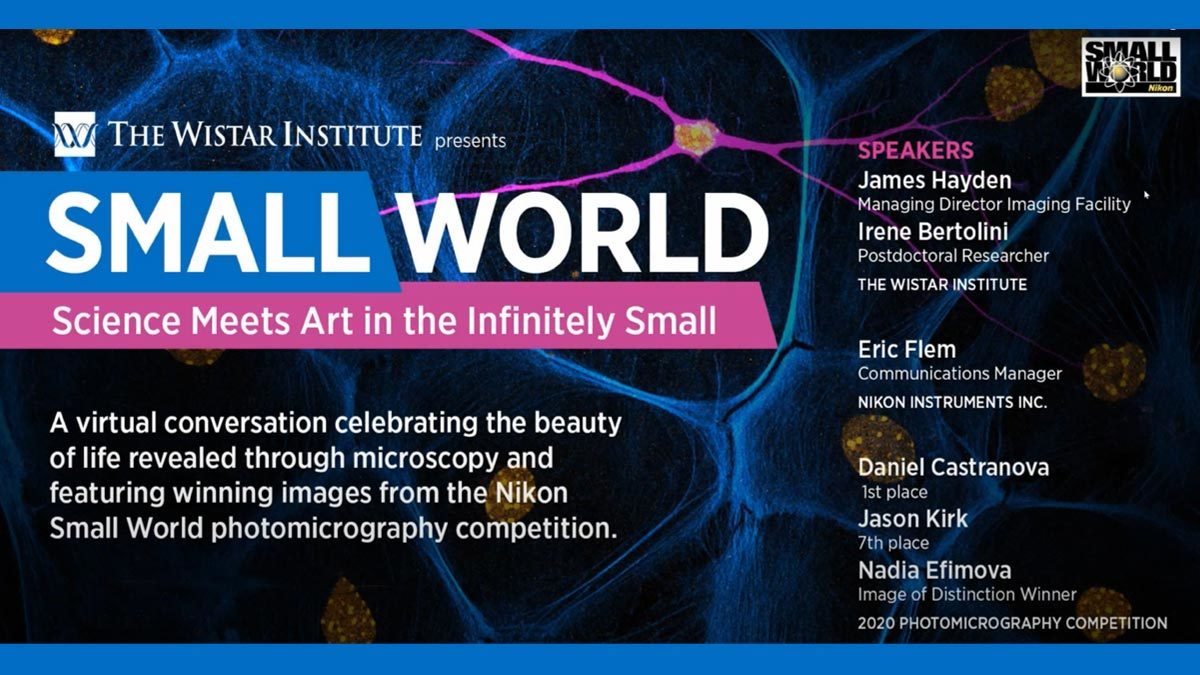 Posted on February 19, 2021
On Friday, February 12, The Wistar Institute hosted a virtual Nikon Small World event highlighting the intersection between science and art through photomicrography featuring the authors of three winning images from the 2020 Nikon Small World photomicrography competition.
Daniel Castranova, a research specialist from the Eunice Kennedy Shriver National Institute of Child Health and Human Development, Jason Kirk, director of the Optical Imaging & Vital Microscopy core facility at Baylor College of Medicine, and Nadia Efimova, senior scientist at a Philadelphia-based pharmaceutical company, shared their passion for imaging, microscopy and photography and showed stunning images from their work. Wistar's postdoctoral researcher Irene Bertolini from the Altieri lab also presented her microscopy work that allows her to study the contribution of mitochondria in cancer.
Eric Flem, Nikon Instruments Inc. communications manager and curator of the competition, thanked Wistar for its partnership in showcasing the world's largest photomicrography competition that includes a collection with thousands of entries from all over the globe each year.
Admiring remarkable details of zebrafish vasculature, intricate woven filaments within cells, and other intriguing features captured through the lens of a microscope and rendered as captivating works of art, the audience had a glimpse of the invisibly small world whose fascinating beauty is typically only revealed to scientists and microscopy pros.
If you missed the event, please view the video below.
Courtesy of The Wistar Institute, Philadelphia, PA
---