Stunning Dorsal View of a Zebrafish Wins Forty-Sixth Annual Nikon Small World Photo Microscopy Competition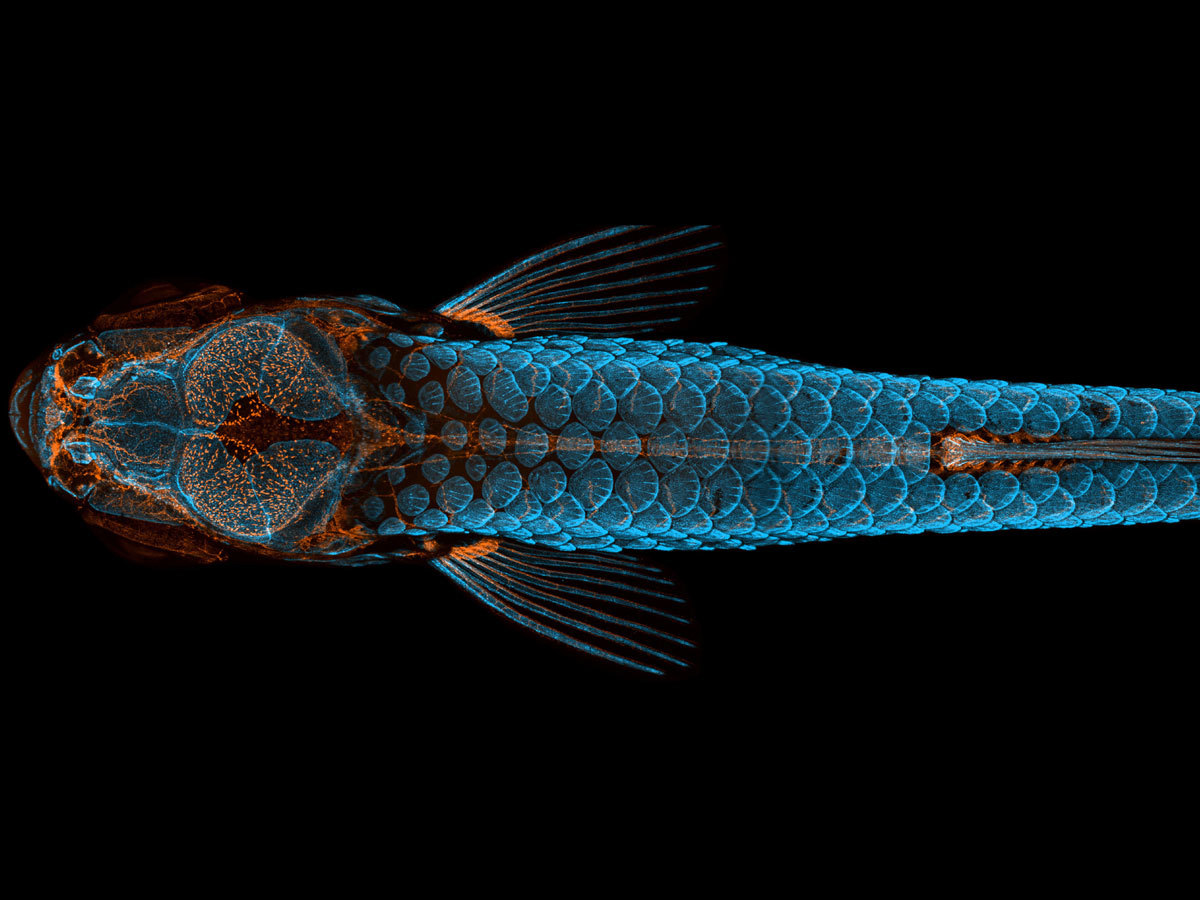 Posted on October 13, 2020
The colorful snapshot gives viewers an inside look at the zebrafish's skeleton, lymphatic vessels.
Nikon Instruments Inc. today announced the winners of the forty-sixth annual Nikon Small World Photomicrography Competition. Daniel Castranova, assisted by Bakary Samasa while working in the lab of Dr. Brant Weinstein at the National Institutes of Health, took the top prize for his artfully rendered and technically immaculate photo of a juvenile zebrafish. The image is a dorsal view of the head of a fish with fluorescently "tagged" skeleton, scales (blue) and lymphatic system (orange), taken using confocal microscopy and image-stacking.
This image is particularly significant because it was taken as part of an imaging effort that helped Castranova's team make a groundbreaking discovery - zebrafish have lymphatic vessels inside their skull that were previously thought to occur only in mammals. Their occurrence in fish, a much easier subject to raise, experiment with, and photograph, could expedite and revolutionize research related to treatments for diseases that occur in the human brain, including cancer and Alzheimer's.
Castranova stitched together more than 350 individual images to create this single stunning visual. The image was acquired using a spinning disk confocal, merging together maximum intensity projections of three separate image Z stacks to generate the final reconstructed image.
"The image is beautiful, but also shows how powerful the zebrafish can be as a model for the development of lymphatic vessels," Castranova said, "Until now, we thought this type of lymphatic system only occurred in mammals. By studying them now, the scientific community can expedite a range of research and clinical innovations – everything from drug trials to cancer treatments. This is because fish are so much easier to raise and image than mammals."
"For 46 years, the goal of the Nikon Small World competition has been to share microscopic imagery that visually blends art and science for the general public," said Eric Flem, Communications Manager, Nikon Instruments, "As imaging techniques and technologies become more advanced, we are proud to showcase imagery that this blend of research, creativity, imaging technology and expertise can bring to scientific discovery. This year's first place winner is a stunning example."
Second place was awarded to Daniel Knop for his image of the embryonic development of a clownfish (Amphiprion percula) on days 1, 3 (morning and evening), 5, and 9, created using image-stacking. It shows the development, from hours after fertilization (even with a pack of sperm cells being visible on top of the egg), until hours before hatching. The primary challenge was to create sharp focus stacking pictures while the embryo was alive and moving.
Third place was captured by Small World veteran Dr. Igor Siwanowicz for this picture of the tongue (radula) of a freshwater snail, using confocal microscopy.
In addition to the top three winners, Nikon Small World recognized 85 photos out of thousands of entries from scientists and artists across the globe.
The 2020 judging panel included:
Dr. Dylan Burnette, Assistant Professor of Cell and Developmental Biology at Vanderbilt University
Dr. Christophe Leterrier, Group Leader at the Institute of Neurophysiopathology at CNRS and Aix-Marseille University
Samantha Clark, Photo Editor at National Geographic
Sean Greene, Graphics and Data Journalist at The Los Angeles Times
Ariel Waldman, Chair of the External Council for NASA's Innovative Advanced Concepts Program
To view all the winners, click here.
---