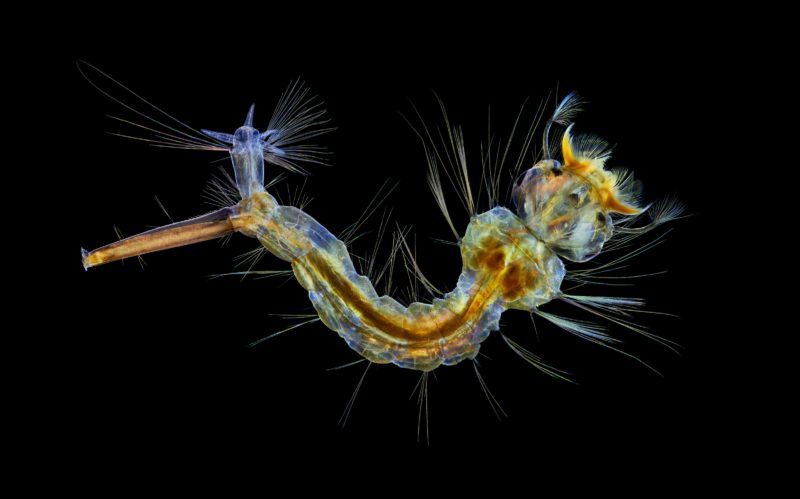 Location

Hounslow, Middlesex, United Kingdom
Technique
Magnifaction

4x (Objective Lens Magnification)
In Their Own Words
A Q&A with Nikon Small World winner Anne Algar.
What is the subject matter of your winning image and why did you choose this image?

My image is a mosquito larva showing its syphon tube for breathing, mouth brushes for feeding, and anal gills. Also shown is the internal structure of the mosquito and the number of large hairs covering the body. I find it interesting that a hated insect can produce such an intriguing picture when photographed through a microscope. Having been bitten on numerous occasions by mosquitos, I can appreciate both sides of the issue.

What are the special techniques and/or challenges faced in creating this photomicrograph?

To emphasize the details in the subject, I used polarizing and wave plate retarder filters. As brightfield illumination would not have made the subject stand out from the background, I used darkfield to produce the black background. A single image would have given insufficient depth of field so I took a series of shots at different focusing distances and combined them with Zerene Stacker.

What is your primary line of work?

I am a retired local government officer.

How long have you been taking photographs through a microscope? What first sparked your interest in photomicrography?

I began taking photographs through a microscope two years and five months ago. Having seen various pictures of crystal structures taken through a microscope on the internet, I decided to try taking some for myself. I soon moved on to biological specimens because I have had a long-term interest in photographing wildlife.

Do you tend to focus your microscopy toward a specific subject matter or theme? If so, why?

Although I am still interested in crystal photography, I now specialize in aquatic invertebrates, mainly collected from a garden pond. I enjoy revealing the detailed structure of these invertebrates that is invisible to the naked eye.