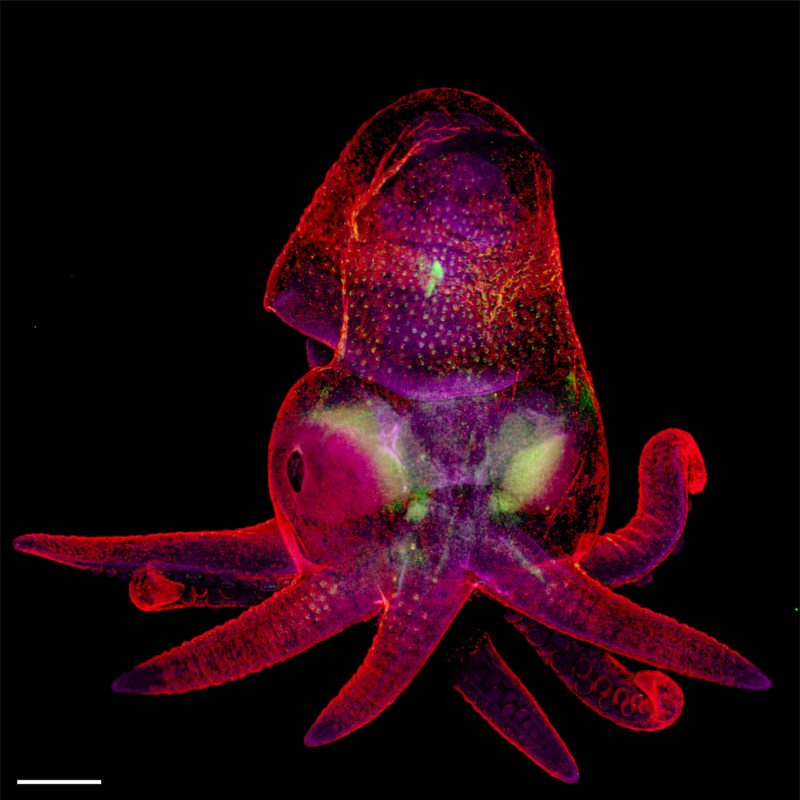 Octopus bimaculoides embryo
Affiliation

University of Oxford
Weatherall Institute of Molecular Medicine
Oxford, Oxfordshire, United Kingdom
Technique

Confocal, Image Stitching
Magnifaction

5x (Objective Lens Magnification)
In Their Own Words
A Q&A with Nikon Small World winner Martyna Lukoseviciute.
What is the subject matter of your winning image and why did you choose this image?

It's an octopus embryo. Octopus is my favorite sea animal. I am fascinated by its intelligence, camouflage abilities and social interactions, but it is very different from mammals. Therefore, it is important to study its development, especially the nervous system development that can hold answers regarding the conserved and basic features of intelligent animals. This image is very beautiful and also educates people on the importance of understanding marine animal development.

What are the special techniques and/or challenges faced in creating this photomicrograph?

The biggest challenge was mounting the embryo onto the slide, because of its relatively big size. I needed to use a specialized slide with a little groove and build little walls around the sample to put the coverslip on top of it to avoid squashing the embryo. Also, because of its size, I needed to use a 5x objective and acquire multiple files to cover the whole area of the sample. This took a long time but was really worth it!

What is your primary line of work?

I am in my last year of my Ph.D. in developmental biology. I am researching neural crest specification and early differentiation controlled by epigenetic mechanisms in the zebrafish embryo.

How long have you been taking photographs through a microscope? What first sparked your interest in photomicrography?

I started taking photographs through a microscope in 2015 during my bachelor's degree, when I was working on frog embryos. However, I have only started using high-resolution confocal microscopes during my DPhil at the University of Oxford for my work with zebrafish embryos. Seeing is believing! I was mesmerized by the beautiful structures hidden from our eyes and once I found a way to remove this barrier by using microscopes, I completely fell in love with it. I love sharing and engaging people outside the scientific community by showing my microscopy pictures of different species' embryos.

Do you tend to focus your microscopy toward a specific subject matter or theme? If so, why?

Usually, my microscopy is focused on embryo development. Nothing fascinates me more than unraveling the secrets of embryo development and comparing different species.

Why did you enter the Nikon Small World Photomicrography competition? What do you think of the competition?

I entered this competition because every year I am excited to see the winning images and learn something new about both the world and different techniques. I was excited to share my octopus image with people like me — excited to learn something new and admire the hidden beauty. As a scientist, it's relevant to me to share images of such embryos, showing how important it is to study and compare the basic principles of embryo development. Hopefully, images like this can bring the attention back to basic science, marine biology and evolution.